So the T.V. series "Breaking Bad" ended a couple of Sundays ago after FIVE glorious seasons (some people say SIX because the last season was split into two parts). Anyway, before I continue let me just say that this review of the show/series **DOES NOT CONTAIN SPOILERS**. I will make references to certain character names and compare the show to other shows but I will not spoil it for anyone who has yet to watch it.
Let me just do a small synopsis here for you though. Even though almost everyone knows what the gist of the show is about, I'll say it again for those few of you who don't: "Breaking Bad" is about a High School Chemistry teacher named Walter White who finds out that he has cancer. He begins making and distributing crystal meth soon after because he wants to leave money behind for his family. That is the simplest plot summary that I can give to you without spoiling all of the juicy details.
"Breaking Bad" the series is ultimately comparable to a novel that you just
have
to read in one sitting. Once you start watching it you become hooked on it and have to follow through with the entire series. Although the show was short lived (Season 1 only had seven episodes!), it was one of those rarities on Television where the show gets to plan out their goodbye ahead of time instead of being cancelled right in the middle of all the good stuff (example: "Roswell" 1999). "Breaking Bad" had the chance to make the ending of their series something that the fans could actually enjoy and be proud of. It was a real treat getting to watch everything wrap up instead of being left to wonder (example: "The Sopranos" 1999).
Let me just take a minute here to talk about the incredible talent of all of the actors on the show.
Bryan Cranston
- the guy that played the ridiculous dad on "Malcolm in the Middle" - depicts some of the best acting I've ever seen in the history of T.V. We get to see him transform throughout the five seasons of the show from a shy, Chem teacher into basically a drug lord. Who would have thought that the guy who brought us such laughs on "Malcolm in the Middle" could show so much depth and perspective upon the life of one terminally ill character? Well Bryan nails it. He is an amazing actor. He's the kind of character that you love and hate at different times and sometimes at the same time. I can't imagine anyone else more perfect for the role.
And let me tell you about
Aaron Paul
- he plays Bryan Cranston's partner in crime, Jesse - I originally saw Aaron back in 2000 in a little movie called "Whatever it Takes". He played a dorky trouble-maker, and was just a minor character. Then to watch him grow and really display his talent on "Breaking Bad", I'm just in awe. He is amazing at showing his character's emotions. If Aaron Paul cries, you want to cry. If he's angry, you feel sympathy for him. You can't hate him or his character even if you wanted to. He just really gets under your skin and you can relate to the guy no matter what he's going thru. Aaron just does an overall outstanding job at playing a rough-around-the-edges character when he's such an average nice guy in real life.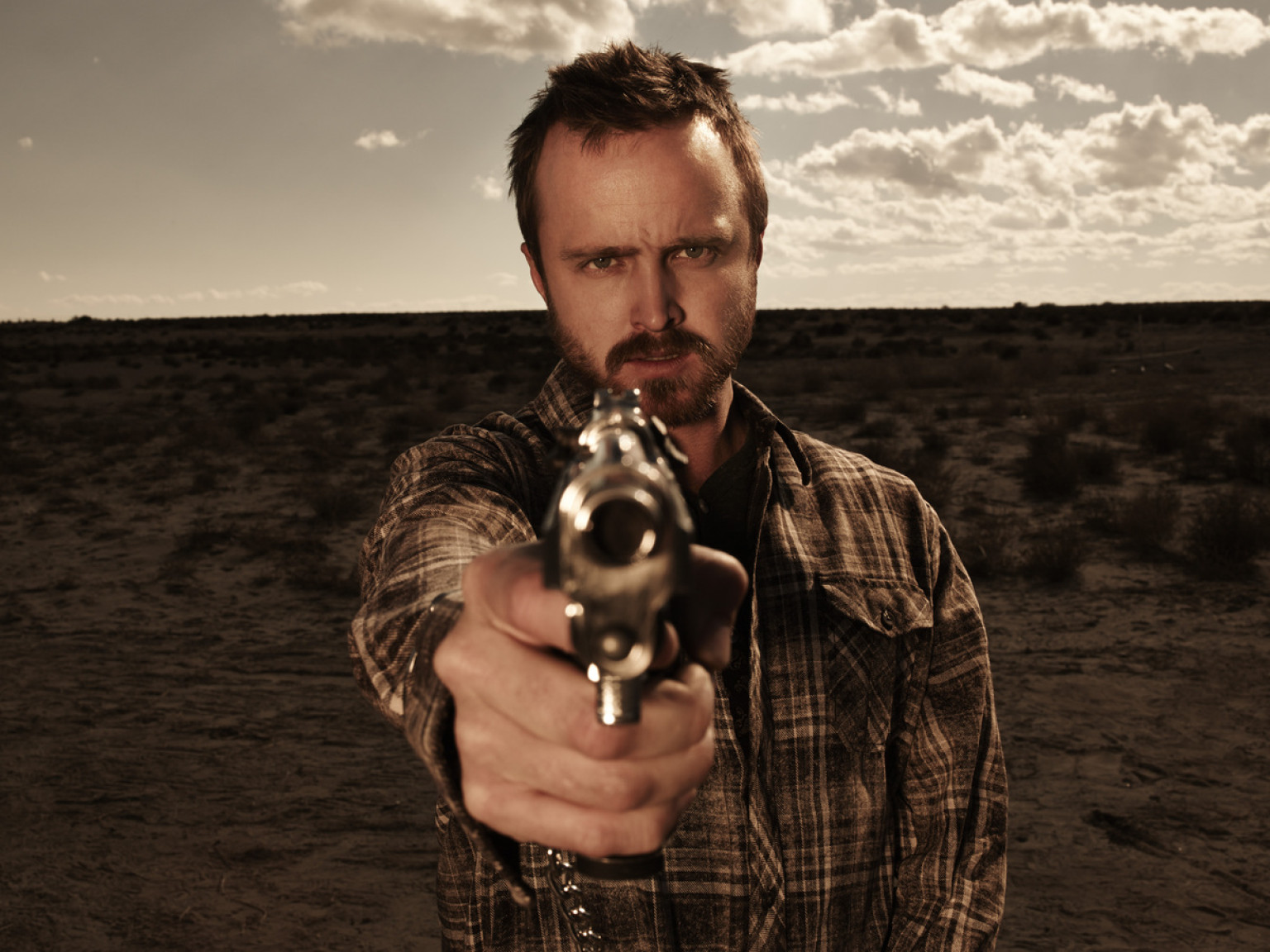 I also want to give a shout out to
Giancarlo Esposito
for playing the character known as Gus. I didn't start watching "Breaking Bad" until the first four seasons, and part one of season five had already been released to Netflix. But I did see Giancarlo when he was on ABC's "Once Upon a Time". He played a genie who later became the Evil Queen's (
Snow White) magic mirror. I didn't really care much for his character on that show. He didn't get much screen time and was portrayed as kind of a double-agent, obsessed with a nonredeemable villain. But then I had the pleasure of seeing him on "Breaking Bad"! He plays a character with so much past and depth, his accent was spot on in my opinion as well. I can't even begin to describe all the ways in which Giancarlo added likeness and hatred into his character because I don't want to spoil anything. But believe me when I say that he will never disappoint, he will continue to delight you, shock you, and probably even frighten you throughout his career on the show.
I can't think of a single actor on the show who doesn't always give their best or show their talent at its utmost. Every single character is portrayed beautifully and believably (and I know it's not just the actors but the writing as well). The cast pretty much stays at a minimum so you can get to know more about the characters rather than branch out into a bunch of minor unsympathetic characters. You won't have to worry about any crappy acting with this show (example:
Genevieve Padalecki as Ruby in "Supernatural" 2005)

It's no surprise that "Breaking Bad" won so many awards because the actors, the writers, the producers - they all worked their asses off and showed us something WORTH watching. I can't think of a single episode where I wasn't sitting on the edge of my seat or biting my nails. Not one single episode where you're sitting their bored or confused, left feeling like you've wasted your time due to pore plot lines or bad writing (example: "Bugs": Episode 1.8 of "Supernatural").
I also can't name one season of "Breaking Bad" that you could just skip over. There are a lot of T.V. shows out there where you'll be watching the first season and you'll think "Hey, this show rocks!", then by season 2 or 3 you'll be wondering how the hell the plot got so off course from the core of the show (examples: "Lost" seasons 2-6, "Dexter" season 3, & 5-8, "Buffy the Vampire Slayer" seasons 4-6, "Angel" seasons 4-5, "Gossip Girl" the final few seasons, "Once Upon a Time" season 2, and the list would go on and on and on). Sometimes the show is on for so long that you forget why you started watching it in the first place (eh hem, "Supernatural") but "Breaking Bad" had a short and sweet life on the small screen. Basically what I want to say is THANK YOU "Breaking Bad" for your actors, your writers, your uniqueness - THANK YOU for bringing to the T.V. something worthy of my time, of awards, and of remembering. And THANK YOU Vince Gilligan for creating such an awesome T.V. series. You succeeded in making a show that people often doubted could ever become popular, and your series finale was perfection. As a fan and audience member, I can't think of any other way to have ended the show. There were no cliffhangers (example: "The Sopranos", or "Angel"), there were only answers. Everything was wrapped up leaving such gratitude and satisfaction in the minds of us, the fans.
The series "Breaking Bad" makes me think of a quote from Nicholas Sparks that I read in one of his books. He was talking about love when he wrote it, but I think it can be applied to the love of great television as well: Great T.V. shows like "Breaking Bad"...."they're shooting stars, a spectacular moment of light in the heavens, a fleeting glimpse of eternity, and in a flash they're gone"...The good T.V. shows make you want to buy the DVD, the great ones are the ones that make you question your morality as you watch chaos ensue. They're also the ones you're willing to pay $200 for just so you can have all the extra footage and commemorative apron. Thanks again "Breaking Bad", you had an awesome run and will be surely missed. If you haven't watched the series yet I highly recommend it. I'd also like to end with a review rating. But rather than give the typical rating of 5/5 Stars, let's just say that I give "Breaking Bad" as a whole a 5/5 Barrel rating. Don't get it yet? You will.